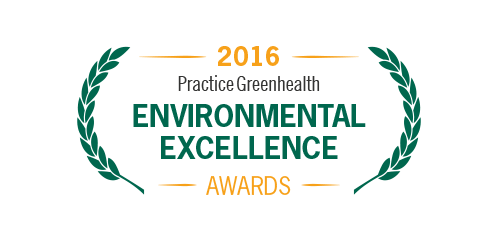 For the 10th consecutive year, Gundersen Health System has been recognized by Practice Greenhealth for its environmental initiatives.
Gundersen received the Top 25 Environmental Excellence Award and four Circles of Excellence Awards last week during CleanMed, the national environmental conference for leaders in healthcare sustainability, .
"This recognition is meaningful confirmation by our peers that we are on the right path," explains Mark Platt, senior vice president of Business Services at Gundersen. "But we don't do this work for the fancy awards. We do it because it is the right thing to do for our patients, their families, our staff and all the communities we serve. The work we do embodies the mission and values of Gundersen Health System."
According to Cecelia DeLoach Lynn, member of the Practice Greenhealth Awards team, "The Top 25 Environmental Excellence Award is a competitive award, encouraging hospitals to continue their pursuit of sustainable innovation across the healthcare sector. Gundersen Health System has been identified as one of the leaders in this sector, driving sustainability and embedding environmental stewardship into the very core of its culture."
Cecelia explains that the Circles of Excellence honor up to 10 of the highest performing hospitals in 10 areas of sustainability expertise. Gundersen has been awarded the Circles of Excellence in Leadership, Waste, Energy and Climate. "These awards highlight those hospitals that are pushing the envelope and driving innovation in sustainability performance in each sustainability category," Cecilia explains.
"We are one of only a few healthcare organizations in the country that have sustained this high level of environmental stewardship and been recognized for a decade or more," says Tom Thompson, sustainability coordinator at Gundersen. "While this is a great accomplishment, our work isn't finished. We are always coming up with new projects and initiatives as we continuously improve projects and processes for even better outcomes."
To learn more about Gundersen's Envision program, go to gundersenenvision.org.